How to Use GoodReader
About GoodReader
GoodReader version 5 is an app that allows you to annotate PDF files, and access, manage, organize, and read just about any file that you want to.
The new release brings a brand new UI and PDF viewer, a continuous scrolling mode, 256-bit encryption, Split View support on iPad, Apple Pencil 2 support, encrypting PDF and ZIP files before sending them out, Secure Photocopy, and much more.
GoodReader works pretty much like your favorite file manager on a computer:
the Finder on your Mac or Windows Explorer.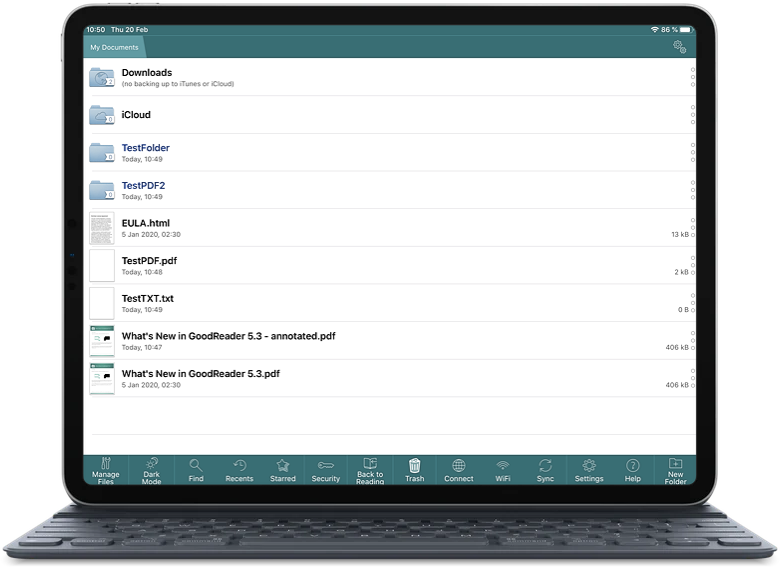 The Main Screen shows you your entire file system. There you can browse your folders and find the file you need.

Various buttons on the Main Screen allow you to quickly find the file, manage it, and open it for reading.
The first thing you need to do is to import some files to the app.
File types you can open for reading: PDF, TXT, Pictures, Audio, Video, MS Office (Word, Excel, Power Point), iWork (Pages, Numbers, Keynote), RTF, HTML, Webarchive.
Besides reading, you can also edit PDF and TXT files. Powerful PDF Annotation and Markup tools allow you to write comments, draw paintings, fill forms, and sign documents.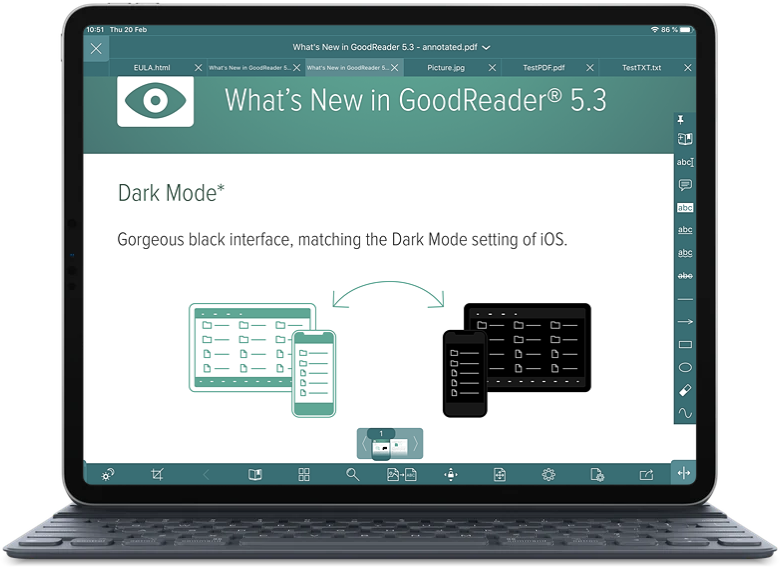 OUTSTANDING

I have had this app on my iPad for several years now and would be lost without it! I use it primarily for knitting--as a collection place for my many patterns. It is particularly useful when I am knitting from a CHART. I place lines, vertically, that are the same color as my stitch markers about every 5-10 stitches and then create a horizontal line to move up or down in the direction that the pattern is to be read. If needed you can make notes to yourself about where you left off either in the line or a message bubble on how you did something a little bit different. I recently created a lace shawl that I would have never been able to create without it. Another thing I like about GoodReader is that you can access your stored patterns even if you are away from internet access. Being able to organize patterns by creating folders and mark patterns with different colored star--those patterns that you want to create for some little person soon or the Fair next summer. There are so many pieces to this app, that I am sure I don`t use them all, but absolutely love what I have found. Even though one can only give 5 stars, I`d give 10 if I could. Amazing app❣
Contact us by e-mail. We're always happy to read your suggestions for improvements and new features, and to answer your questions:
E-mail: support@goodreader.com