How to Convert TXT to PDF
TXT files are great for reading – and typing – simple unformatted text. However, sometimes you may want to do more than that. Sometimes you may want to draw diagrams on top of that, or scribble hand-written notes. PDF Annotations are a great tool for those purposes. But, as the name suggests, they only work on PDF files. GoodReader can convert* a TXT file into a PDF in a matter of seconds.
First, transfer a TXT file to GoodReader (see: How To Import Files & Folders), then tap the file name to open it.
Use the Actions menu to convert the TXT file into a PDF. You can later draw and type annotations on that PDF file. Your original TXT file will stay intact, and a new PDF will be created in the same folder: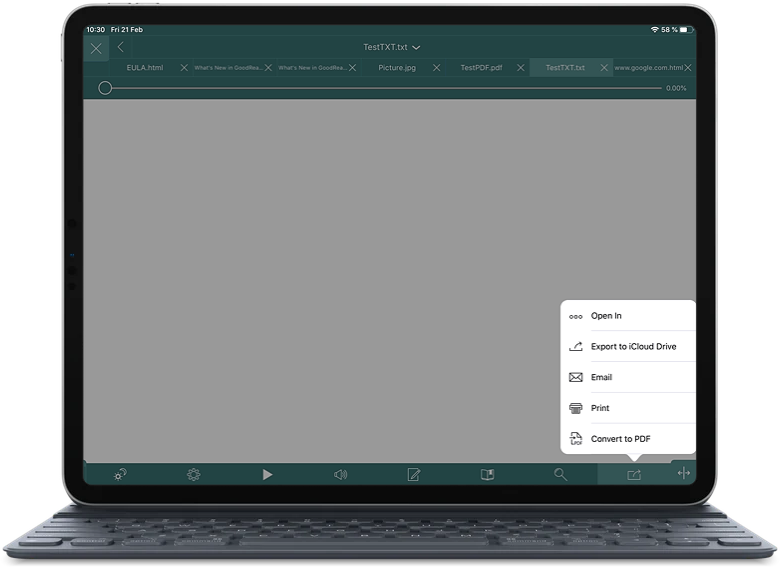 * Convert to PDF is a part of Pro Pack.
Great for multiple servers

I have been using GoodReader for years. I really like it as a file manager and connecting to all my different servers (Google Drive, Dropbox, Box, One Drive). LOVE that you can name and reorder these, which can`t do in a bunch of other file manager apps.


It`s also easy to just mount GoodReader as a server to your computer over WiFi and transfer files between your device and computer. Solid app. Frequent updates. Nice interface. Happy customer.


Tried "Documents 5" by Readdle and some other ones like "Documents" by Savvy Soda and keep coming back to GoodReader because it`s so powerful even if the interface looks a little strange. More powerful than many other file managers.
Contact us by e-mail. We're always happy to read your suggestions for improvements and new features, and to answer your questions:
E-mail: support@goodreader.com