TXT Auto-Scroll for Hands-Free Reading
Are you looking for a good software with a simple, straightforward interface that I can use to make text auto-scroll at a steady, adjustable speed? With GoodReader`s new feature, you can read TXT files hands-free with automatic scrolling.
First, transfer a file to GoodReader (see: How To Import Files & Folders), then tap a file name to open it.
Variable speed Auto-Scroll feature lets you read a text without ever touching the screen.
Use the Play button to start auto-scrolling.

To stop auto-scrolling, quickly tap in the middle of the screen to show the main menu if it`s currently hidden, then press the Stop button.
You can adjust the auto-scrolling speed by using the slider at the right border of the screen (only visible when the main menu is on, quickly tap in the middle of the screen to show/hide the menu).
While auto-scrolling, you can always scroll the file manually. Auto-scroll will pause automatically while you`re dragging the screen, then resume as soon as you let the screen go.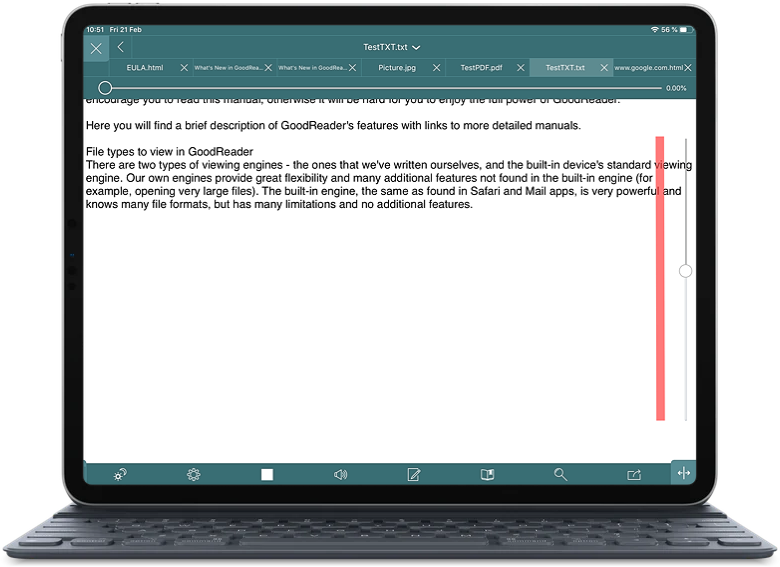 Best File Management App

I wish all developers in the store were this good! And I wish I had discovered this way sooner!


The developer`s website is packed with tons of useful support information covering every imaginable question you could have. I studied it thoroughly before downloading.


This is by far the best file management app I`ve ever used. It`s super easy but it has so many options for using, storing and even encrypting files according to how you as the user seem best. I am very impressed with this app. It is very robust and I would recommend it not only for personal use but for business too. As a small business person I will be using this a lot!
Contact us by e-mail. We're always happy to read your suggestions for improvements and new features, and to answer your questions:
E-mail: support@goodreader.com