How to Export PDF Annotations
If you`ve added valuable notes and highlights to a PDF file, you can share your annotations with your colleagues without having to send the entire file by one of two ways:
Print the Annotation Summary using the Actions menu, or

Email the Annotation Summary using either the Actions menu or the Locations window:

You can select what type of Annotations and what kind of information to include in your Summary by using the small Settings button at the right side of the Actions menu: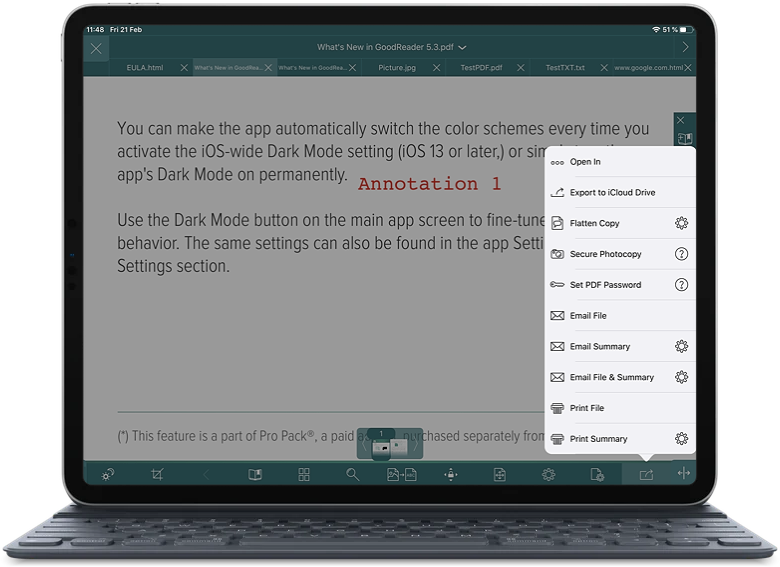 GoodReader 5.0.3....It`s the Real Deal

WOW!!! I made myself a mental note Thursday to write support to see how the update was coming. When I opened the app Friday, I was just pleasantly surprised to see that the long anticipated update had come to fruition. It`s a home run!


I cannot run my business without GoodReader but was becoming frustrated with how slow the app was running on my iPad Pros. Support reassured me several times change was coming.


Thank you...Thank you...the Pro Pack for $5 was a no brainer for security in my field of business and the app runs with blazing speed. I`m only partially through the new manual "What`s New in Goodreader" and can`t wait to see all of the new features.
Contact us by e-mail. We're always happy to read your suggestions for improvements and new features, and to answer your questions:
E-mail: support@goodreader.com