How to Add a Bookmark to PDF
Important note about Bookmarks:
GoodReader Bookmarks are local to the device (and the app) where you created them. They are stored separately from the original file, and they do not get exported when you`re sending or syncing the actual file. We consider Bookmarks as something temporary and casual, similar to a traditional bookmark in a paper book. If you`re making bookmarks that are more important, and must be saved permanently, try using PDF Annotations instead. Having said that, you can always send a summary of all your Bookmarks via Email if you need to.
Creating a new Bookmark.


Creating a bookmark memorizes the current location in an open file. You can also attach a short note to it. (See the warning above – don`t expect those notes to be stored permanently within the actual file.)
Use the Add Bookmark button on the Side Panel or a popup menu that appears when you tap-and-hold on the page: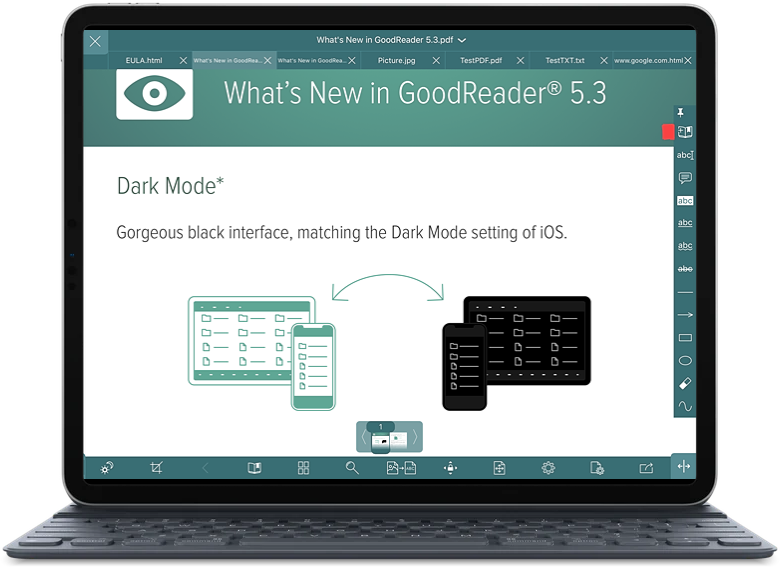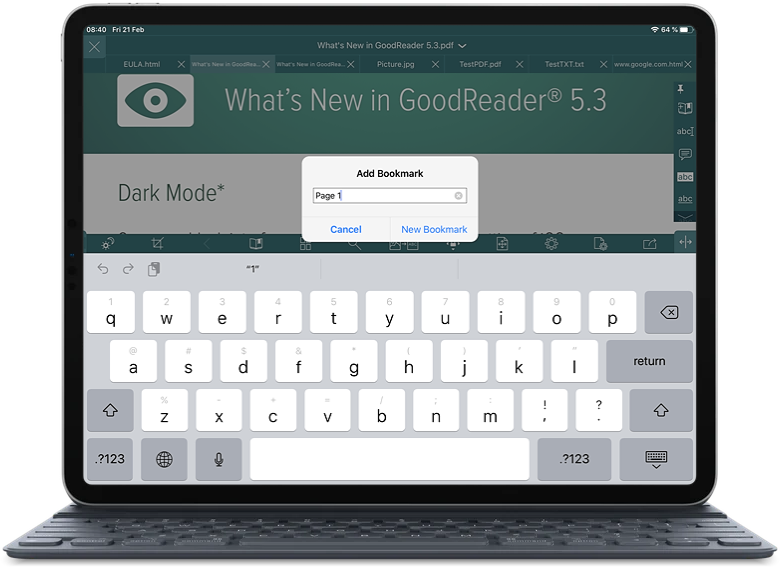 Working with Bookmarks.


Use this button to open the Locations window:

Select the Bookmarks tab on that window.
Use this tab to delete, sort, and rename Bookmarks. You can also add a new Bookmark, and email a list of all existing Bookmarks.
Tapping on a Bookmark`s name takes you to the saved location.
Still the best

GoodReader is still the app I rely on most to use the iPad as a professional tool. Without GoodReader, I am not sure I could still consider the iPad as a very portable, almost full-strength computer. There are other very good apps which have become available since I found GoodReader many years ago, and more and more of them now perform one or another GoodReader function as well as or almost as well as GoodReader. But there is still nothing like GoodReader itself. Even if GoodReader never upgrades again, please do not become discontinued altogether. For one thing, I would not know how to organize and keep track of the tens of thousands of documents I now have on the iPad. I rely on GR for so much more as well. Thank you to the developers.
Contact us by e-mail. We're always happy to read your suggestions for improvements and new features, and to answer your questions:
E-mail: support@goodreader.com