PDF: Secure Photocopy
GoodReader offers you a unique feature, hardly ever found anywhere else — Secure Photocopy*. It allows you to wipe all hidden, redacted, or otherwise invisible or deleted — but still present in the file — data and pages from a PDF file.
Recently, there`s been a few high-profile legal cases where lawyers submitted PDF files to courts, carefully redacting sensitive information, only to have journalists take those PDFs from the court`s archives and copy-paste the "redacted" text from underneath the black rectangles drawn on top of PDF pages. What happened? The problem is that if you draw a black rectangle over a PDF text, the text still stays there! A simple Select All → Copy command on a computer will get it from underneath the drawing.
GoodReader`s Secure Photocopy is a guaranteed removal of hidden, redacted, or deleted elements and pages from everywhere inside the file, including hidden places you never even knew existed. It`s like taping over a confidential text with a black tape, and then making a photocopy of that thing, to make sure that there is no tape on the copy for anyone to remove. There`s nothing to reveal on such photocopy, the text is simply not there.
To use the feature, open a PDF file, press the Actions button, and select Secure Photocopy: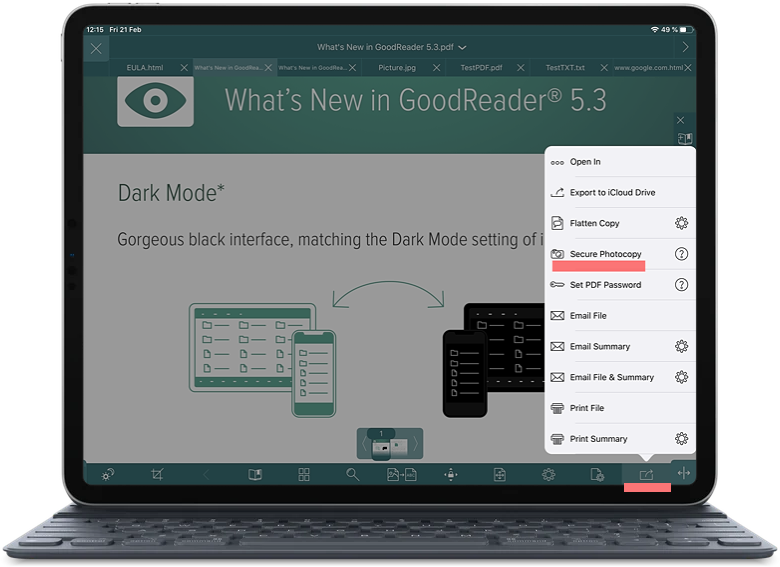 * Secure Photocopy is a part of Pro Pack.
Very useful

This app is extremely useful in my work. I love being able to annotate documents with my Apple Pencil on my iPad. Whether I am dealing with grad school readings, reports, music that needs annotations, etc., I can annotate for my needs and organize the material. Given that I do some teaching, the annotated notes are really helpful and it becomes a library of my work. It`s been useful at developing presentations where I`m using music or text that is highlighted to make my points, or even highlighted in different colors to show layers of information. This app is really handy, and user friendly once you get the hang of it.
Contact us by e-mail. We're always happy to read your suggestions for improvements and new features, and to answer your questions:
E-mail: support@goodreader.com