GoodReader Data Security: App Password
GoodReader's front line of defense is the App Password. Independent of your device passcode, you can require a password to launch GoodReader.
This feature shines when used together with our Military-Grade File Encryption. Simply password-protecting the app isn`t that much of a protection. Unless you choose to enable the encryption, the files themselves are still going to be an easy target. However, there`s more inside GoodReader than just files. For instance, there could be remote server connections that could be used to steal your data from remote servers by anyone who has access to GoodReader app on your device. Making sure GoodReader won`t launch without a password is a good way to secure your remote data.
Here's how to set it up:
From GoodReader's main screen, tap the Settings button at the bottom of the screen.
Select Security Settings → Encryption & Passwords Setup.
Choose either Simple Password Protection (not recommended) or Encryption (yes please!).
On the next page under How the app is opened, choose With an App Unlock password or With Touch/Face ID or an App Unlock Password.
Tap Save (or Next → Save for Encryption) and a pop-up window will appear to create the App Unlock Password.
If you ever want to change the password, go back to Security Settings and select Change App Unlock Password.
To completely disable the protection and remove the app password, go to the same Security Settings → Encryption & Passwords Setup dialog you used to set it up, and simply select No Security.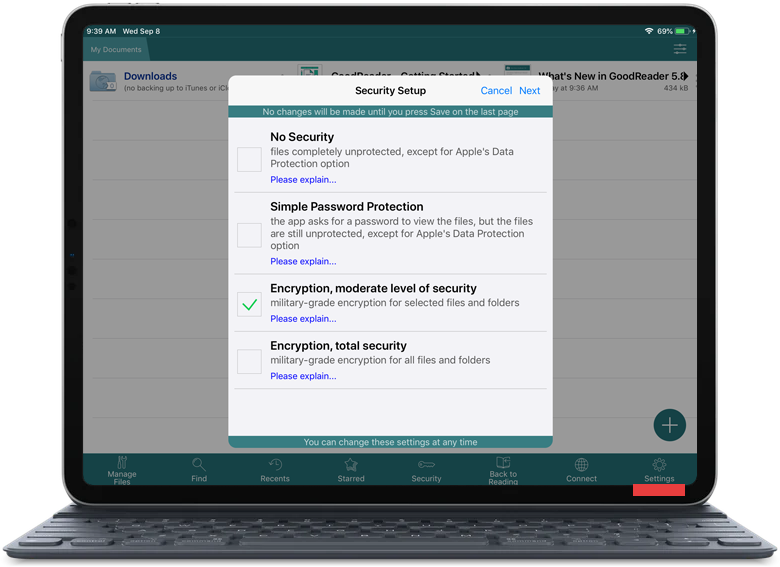 Warning
Please do not forget your password! Unless you`ve set up a recovery email — which is only available for
Encryption
— there is no way to restore a forgotten password. So if it ever happens, your only unfortunate option would be to delete and reinstall the app, losing all your files and settings inside the app in the process. This is a good reason to always maintain backup copies of your GoodReader files in another location, on a server, computer or other device.
Excellent iOS document multi tool.

UPDATE: Working great in iOS 11, including popover and split screen.


If you use your iPad for any serious reading or reviewing of documents, buy GoodReader immediately. It`s power in managing documents will allow you to get to pretty much any storage service, and the powerful markup tools will make a quick job of reviewing and editing.


My power tip: once you`ve reviewed a document, GoodReader can send both the marked-up document *and* a summary of your markup via email in one click. Makes document review a breeze.
Contact us by e-mail. We're always happy to read your suggestions for improvements and new features, and to answer your questions:
E-mail: support@goodreader.com